After much deliberation, James Gunn is back at Marvel Studios, bay-bay!
Deadline reports that this was decided on some time ago for the man who will also be directing DC Comics' upcoming "Suicide Squad 2", and the decision to announce it publicly finally happened today:
The decision to rehire Gunn –he was fired last July by Disney after alt-right journalists made public a fusillade of decade old social media missives that made light of pedophilia and rape — was one that was mulled and actually made months ago, following conversations with Disney studio leadership and the team at Marvel Studios.
Why the change of heart? After the firing, Walt Disney Studios chairman Alan Horn met with Gunn on multiple occasions to discuss the situation. Persuaded by Gunn's public apology and his handling of the situation after, Horn decided to reverse course and reinstate Gunn.
Soon after the announcement, James went on Twitter to respond to the news:
"I am tremendously grateful to every person out there who has supported me over the past few months," he wrote. "I am always learning and will continue to work at being the best human being I can be. I deeply appreciate Disney's decision and I am excited to continue making films that investigate the ties of love that bind us all. I have been, and continue to be incredibly humbled by your love and support. From the bottom of my heart, thank you. Love to you all."
The surprising news that Disney reversed its decision to fire Gunn broke on Friday, March 15, but apparently Disney's decision to rehire Gunn and have him direct Guardians Vol. 3 actually happened months ago. The story, originally reported by Deadline and confirmed by IGN, led to a joyous response from fans. Also a fan? Sonic the Hedgehog star Ben Schwartz, who simply responded to Gunn's tweet, "AYYYYYYYEEEEEEEEEE."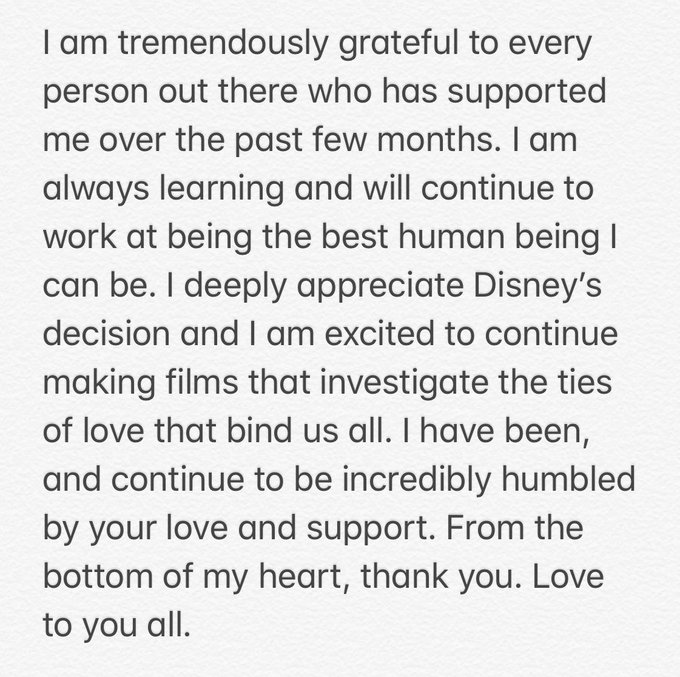 AYYYYYYYEEEEEEEEEE7823:10 PM – Mar 15, 2019Twitter Ads info and privacySee Ben Schwartz's other Tweets
This tweet marks Gunn breaking his eight-month-long Twitter silence. The last thing he had tweeted, which was on July 19, 2018, was his five-part apology in response to his resurfaced controversial tweets from 2008 and 2009 that led to Disney firing him to begin with.
Before Gunn sits back into the directing chair for Guardians of the Galaxy Vol. 3, he'll first complete his work as writer and director for Warner Bros.'s upcoming Suicide Squad 2, which is due in theaters in 2021. We want to hear which film you guys want to see first! Take our poll below:Which Movie Should James Gunn Direct First?Guardians of the Galaxy Vol. 3Suicide Squad 2Neither!VoteView Results
Terri Schwartz is Editor-in-Chief of Entertainment at IGN. Talk to her on Twitter at @Terri_Schwartz.IN THIS ARTICLEGuardians of the Galaxy Vol. 3 Release TBATHEATERSCIFISUPER HEROIGN RECOMMENDSGuardians of the Galaxy 3: James Gunn Back as DirectorJames Gunn Breaks Twitter Silence After GotG Vol. 3 RehiringThe Division 2 Review in Progress – We've Put a Score On ItFans React to James Gunn Returning for Guardians of the Galaxy, Vol. 3Netflix's Love, Death & Robots ReviewMarvel Stars Reacts to James Gunn Returning for Guardians of the Galaxy, Vol. 3Arrested Development: Season 5, Part 2 ReviewDaily Deals: 1 Year of PS Plus Membership for $44.99

© 1996-2019 Ziff Davis, LLCJOIN THE IGN NEWSLETTERCONTACT USCAREERSADVERTISEACCESSIBILITYSUPPORTTERMS OF USEADCHOICES
We encourage you to read our updated PRIVACY POLICY and COOKIE POLICY.×
The entire cast had been very supportive of James when he was fired, and are ecstatic now that his return is official. Disney, as it turns out, had not even begun to consider other directors for the franchise, so it seems the movie will end with the same person behind the camera who it started with.
Prior to his firing, James Gunn wrote the script for GotG 3, which Marvel Studios confirmed they would use for the third installment.
Disney is also days away from sealing the deal to acquire the assets of Fox, so stayed tuned for that news and how it will likely affect the Marvel movies.
Please follow and like us: